:: SEARCH ENGINE OPTIMIZATION ::
Simply put, the most beautiful website in the world, the most strategic social media plan and the most compelling content since Shakespeare aren't worth anything if your site can't be found in the search engines.
Effective Search Engine Optimzation (SEO) means search engines like Google, Bing, and Yahoo! can properly understand the intent and focus of each page of your site and that your content is so valuable that other authoritative sites link to it.
Simple. But not easy.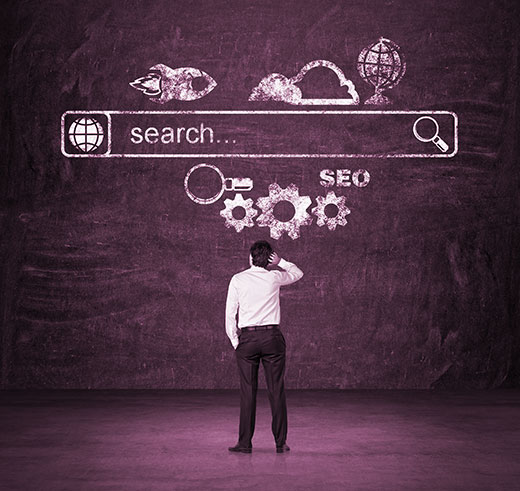 SEO: Can We Have Your Attention, Please?
Today it's estimated that there are now in excess of ONE BILLION websites, all of which are vying for attention. Despite their forays into countless aspects of contemporary life—the Google Toaster, anyone?—Google is first and foremost a search engine. And that means their prime objective is to return the most accurate and relevant results for every search.
These days, with the proliferation of "easy to build" website template companies, you or your company may have a "nice" website that was easy to build. Now the question is: Can anyone find it?
Having an attractive website is important, but only after it has been found.
Making your website "searchable" or more accurately "findable," is what Search Engine Optimization is all about. It is a, if not the most critical attribute your website must include if you have any expectation of making it function as a productive, success-building component of your business or professional practice.  
So, in a nutshell: A website must be easy to find, it needs to be easy to navigate and responsive, and it needs to be attractive ("easy on the eyes").
This is where expertise is required today, and that is what we provide. With an track record of experience and a philosophy of ongoing technical education, we are experts at the three required components of integrated website design:
Search Engine Optimization,

Navigational functionality, and

Responsive, attractive design. 
Optimize, Optimize, Optimize...
And it's not just text; images are optimized for screen readers so that even your photos can be "read."
Finally, we'll make sure all the local directories have your correct business name. address, and phone number - especially critical for mobile searches.
And, the best thing about all of this is, we won't need to "sell you" on how important this is; we'll evaluate your current site for free, show you how it can be improved, and then you'll prove it to yourself!